shirt and shoes: tjmaxx, skirt: made by me, necklace: made by me, bracelet: modcloth, belt: thrifted
Do any of you feel silly and awkward when taking outfit pictures? I've gotten a lot better when it's just me and my husband around, but when we took these photos my neighbor was out so my shyness kicked in. Every photo ended up with me standing with my arms down at my sides, looking strait ahead, with a slight scowl. Oops!
Along with lots of other lovely ladies, we're linked up over at Modern Modest Beauty today. Check it out!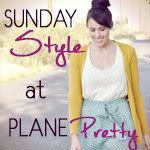 -Viv